iguyNYC @ dudesnude

| | |
| --- | --- |
| | United States : New York : New York |
profile id: 754947
build: Average
height: 1.73m (5' 8")
weight: 70Kg (155lb)

waist: 81cm (32")
body hair: Some Hair
facial hair: Clean-Shaven
ethnicity: Caucasian
his cock is: Cut

tattoos: None
preferred role: Versatile
interests: Underwear, Email/chat, Web cam.
practice safer sex: Always
last here: 04 Feb 2019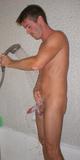 I'm here because I love male nudity, particularly as a participant. I love to get naked with hot guys in person...either to just hang out or for sex. Even if we never meet, though, this site can be great as participatory porn. It's a lot of fun exchanging naked pictures with hot guys when there is mutual attraction. Where else can someone tell you that they jerked off to your pictures and it's actually a welcome compliment rather than creepy?

I don't have a list of rules, but I will blatantly steal this piece of wit from several other profiles...I'm not into talking to dicks and assholes. If you want to engage in any sort of conversation with me, I do want to see a face. It doesn't have to be in the same picture as your dick, but you get MAJOR points if it is. I'm all about full-frontal, whether it's flaccid, hard, or perhaps hottest of all, semi-hard.

I am always up for doing a mutual photo shoot. These can be extremely sexy and don't necessarily have to lead to a hook-up (but anything can happen).