profile id: 559272
email:
build: Average
height: 5' 5"
weight: 120lb

waist: 89cm (35")
chest: 97cm (38")
body hair: Some Hair
facial hair: Goatee
ethnicity: Latino
cock size: Extra Large
his cock is: Cut

piercings: Ears, Upper Body.
tattoos: None
preferred role: Top
interests: Underwear, Muscle worship, Email/chat, Web cam, Role play, BDSM, Leather, Fetish, Sportswear, Groups.
practice safer sex: When appropriate
last here: 28 Feb 2020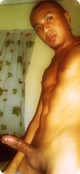 I'll tell you one thing that I've learned. That nobody is gonna remember on what gown you wore, or what make-up you had on, or what your jewelry was like, or wether your nails are clean or painted. But they will remember on "HOW YOU TREATED THEM". And that's the biggest lesson in life. It's how you treat people. That's the legacy you leave behind".