pierced3xs @ dudesnude

United States : Arizona : Scottsdale

/

mobile
profile id: 498952
build: Average
height: 1.85m (6' 1")
weight: 77Kg (170lb)

waist: 84cm (33")
chest: 107cm (42")
biceps: 36cm (14")
body hair: Naturally Smooth
facial hair: Clean-Shaven
ethnicity: Caucasian
cock size: Medium
his cock is: Cut

piercings: Upper Body, Lower Body.
tattoos: None
preferred role: Versatile
interests: Underwear, Muscle worship, Email/chat, Fetish, Sportswear, Groups.
practice safer sex: Never
last here: 20 Feb 2019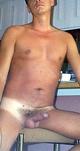 I come here for the same reasons many guys do, the skin, the dick, the ass and yes to hookup when itís right. But what I really want I am beginning to think is an elusive fantasy. That is a monogamous relationship with one man for the rest of my/our lives.

I've only been in love with two men in my life. I just don't give my heart easily. When I do it's real. After a breakup in 2017 I don't know if I have the strength to ever do it again. I really am a great guy with a lot to offer. My hangups are few and easy to forgive. My greatest fear now is that a wonderful man may walk into my life and I'm currently so protective of my heart he may never get the chance from me that he/we deserve. <sigh> I rarely play with partnered or married men anymore. Unless they come as a package deal. Call it believing in karma.

One good thing is that my career allows me to be completely portable and can work anywhere on any continent as long as I have access to the internet.

**************************************** **

I wish there was a safe sex option that read "Occasionally". I almost never practice safe sex. If it's required I'll usually pass no matter how attracted I am or how horny I am.

I moved to Scottsdale, AZ in July 2015 from the Dallas area. I've met some great guys here that aren't full of that "Dallatude" I am so used to. But thereís at least one giant asshole who is a money grubbing whore that styles hair at a salon in Old Town on Craftsman. &#128514;&#128514;

Until a few years ago when life got in the way (cancer and a messy divorce) I worked very hard at the gym and biking to maintain a very average body.

Iím not really putting any limitations on guys. But I refuse to wear a condom. You can.

I really had to work on being more versatile after being a life long top. I'm getting pretty good at taking the really big ones. These days, I donít care who fucks who. Sexual role is not indicative of dom or sub. In either role Iím giving of myself and not taking.

HIV- as of 10/6/18 and PrEP (Truvada) since May of 2013. Look it up. All HIV negative men should consider it and even if youíre poz you still need to test for other infections.

The PrEP has its side effects and can be harsh on some parts of the body. I'm not sure how much longer I can tolerate it. But, I'm allowing men to breed my ass as often as they want until I have to stop taking it.

It's not that I won't wear a condom because it is something I consider taboo. It takes me forever to cum and condoms just makes that worse and it gets frustrating. Also, I am of a generation that never had to use them. But most importantly is that sex is one of the most intimate things two people can share and to use a condom kills that intimacy.

I was recently looking over the stats on my videos and it seems guys like the kinkier stuff almost 7:1. So, Iíll start swapping me fucking or getting fucked for the ones with a darker slant. Iíve also noticed guys like my ass more than my dick. Iím shocked! lol

Kik - pierced3xs
A4A - pierced3xs
BBRT - pierced3xs
MH - pierced3xs

Notice a pattern?

== Results from bdsmtest.org ==
100% Exhibitionist
100% Switch
100% Voyeur
100% Experimentalist
99% Brat
98% Brat tamer
98% Rigger
95% Rope bunny
88% Owner
84% Degrader
78% Degradee
73% Sadist
73% Dominant
65% Submissive
60% Primal (Hunter)
59% Slave
58% Master/Mistress
56% Boy/Girl
54% Masochist
52% Primal (Prey)
47% Non-monogamist
45% Vanilla
44% Daddy/Mommy
43% Ageplayer
39% Pet


WARNING: Any institution using this or any of its associated sites for study or projects - you DO NOT have my permission to use any of my profile or pictures in any form or forum both current or future. If you have or do, it will be considered a serious violation of my privacy and will be subject to legal ramifications. It is recommended that other members post a similar notice.