rick_pdx

| | |
| --- | --- |
| age 69 • verified | United States : Oregon : Portland |
profile id: 294949
build: Average
height: 5' 8"
weight: 160lb

waist: 76cm (30")
body hair: Some Hair
facial hair: Stubble
cock size: Medium
his cock is: Cut

piercings: Upper Body.
tattoos: None
preferred role: Versatile
interests: Underwear, Muscle worship, Email/chat, Web cam, BDSM, Leather, Fetish, Sportswear, Groups.
practice safer sex: Always
last here: 04 Jun 2020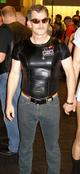 LTR - playmates - hang out

Relationship is the goal. Have to meet people to find one. "Chemistry " is a good term, but not well defined.

I read voraciously - mystery and science fiction for fun. C/W dance (lead or follow) Square Dance (C2)

Somewhat shy (really I am - though not so when provoked).

Retired 12/01/08. Leisure is a skill I've yet to acquire. Still - and always - interested in making new connections, so that I don't end up as an wizend old wierdo living in a nest of crumbling newspapers.