profile id: 128185
build: Average
height: 1.91m (6' 3")
weight: 92kg (203lb)

waist: 81cm (32")
chest: 132cm (52")
body hair: Some Hair
facial hair: Goatee
ethnicity: Caucasian
cock size: Medium
his cock is: Cut

piercings: Ears, Upper Body.
tattoos: Several
preferred role: Versatile
interests: Underwear, Muscle worship, Email/chat, Role play, BDSM, Leather, Fetish, Groups.
practice safer sex: Most of the time
last here: 17 Aug 2019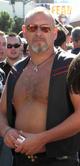 hey guys- enjoying life and having fun- love to travel and meet new people and just having fun.Love is Love, Sex is Sex.