nice1m8 @ dudesnude

| | |
| --- | --- |
| | United Kingdom : England : Cambridge |
profile id: 1209352
build: Slim
links:

body hair: Some Hair
facial hair: Stubble
ethnicity: Caucasian
cock size: Large
his cock is: Uncut

piercings: Ears.
interests: Email/chat.
last here: 21 Feb 2019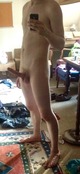 So, without further ado...

Happily-partnered guy. Mainly here for a perv and a chat, but if you're nearby, well... That's a rare occurence, though. Definitely up for genuine friends if we get along.

Sexually, into most of the regular stuff: a nice dick on a cute guy with a pretty smile and a bit of fuzz? Instantly weak at the knees. Modesty and mutual respect are great too.

Otherwise: video games, music, outdoors, cooking...

Get in touch :) I like to hear from people all over the world.