SluttyBtm1 @ dudesnude
United States of America : California : San Bernardino County

/

mobile
profile id: 1024657
email:
build: Slim
height: 1.75m (5' 9")
weight: 64kg (140lb)

waist: 74cm (29")
body hair: Some Hair
facial hair: Beard
ethnicity: Caucasian
cock size: Large
his cock is: Cut

tattoos: None
preferred role: Versatile
interests: Underwear, Email/chat, Web cam, Role play, Sportswear, Groups.
practice safer sex: When appropriate
last here: 23 Aug 2019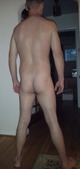 Okay, confession: I was going through a phase when I created this profile name I am not a total bottom. I am totally versatile, but usually looking to my ass worked over when I'm online.

More on me ...

I am funny, smart, nice and honest. I love karaoke and watching sports. My naughty side likes to get naked (among other things) on cam, and prefer group play.

Why am I here? A few reasons:

- Sex. Plain old NSA sex
- Exhibitionism and Voyeurism
- Stroke cock on cam with guys
- Guys to make videos

If you want to know anything else, let me know. I'll be happy to give you my private PW if you give yours. FYI: all my private pics are of my cock.