SluttyBtm1 @ dudesnude
United States : California : Palm Springs

/

mobile
profile id: 1024657
email:
build: Slim
height: 1.75m (5' 9")
weight: 65Kg (143lb)

waist: 74cm (29")
body hair: Some Hair
facial hair: Beard
ethnicity: Caucasian
cock size: Large
his cock is: Cut

tattoos: None
preferred role: Versatile
interests: Underwear, Email/chat, Web cam, Role play, Sportswear, Groups.
practice safer sex: When appropriate
last here: 15 Feb 2019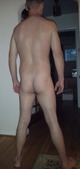 Okay, confession: I'm not sure what I was thinking when I created this profile name, but I am not a total bottom. I am totally versatile.

More on me ...

I am funny, smart, nice and honest. I love karaoke and watching sports. My naughty side likes to get naked (among other things) on cam, and prefer group play.

Why am I here? A few reasons:

- Sex. Plain old NSA sex
- Exhibitionism and Voyeurism
- I'm looking for cam buddies (Skype: micumslut, or Zoom)
- Guys to engage in some "recreational" fun

If you want to know anything else, let me know. I'll be happy to give you my private PW if you give yours. FYI: all my private pics are of my cock.